Why We Say: Oh, "G"
Why are jokes considered a "gag"?
The term is originally from the days (as is today) when actors would toss in an ad libbed line to throw another actor off his own lines. Often this change up in the script would stop the actor from talking as effectively as being gagged and silenced. Isn't the hope there is a gag reel why we buy the DVD?
Why does someone "run the gamut" ?
"Gamma" is the last note on the Guido d'Arezzo music scale with "ut" representing the first note sung. If someone goes through the "gamut" they are basically going from one end to the other.
What is meant by "getting someone's goat"?
Apparently in the horse racing world a nervous horse in the gate can be calmed by the presence of a goat. Unscrupulous owners might try to turn the race towards their favor by taking their rival's goat. That's baaadd business.
How is "being on good footing" an indication of rank with someone?
During the reign of England's King Henry VIII a person's social standing could be measured by his shoe. Peasants typically wore small shoes, being insignificant on the grand scale of social importance. The closer to the king, the larger the shoe. Hmm, wasn't Henry known to be of dubious sole and a heel?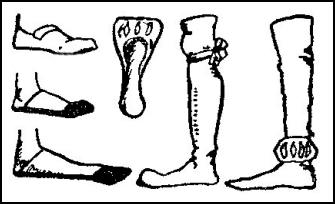 Why do we call idle chatter "gossip"?
In earlier times godparents were called "God-sibbs" with "sibb" meaning "related." Godparents were usually selected among distant relatives who, it is said, when they met at gatherings, such as christenings, were known to exchange news and tidbits. These idle chatter became associated with God-sibbs and slipped into "gossip."
How did "guy" come into use?
The British expression "guy" refers to someone who is not respected from the revolutionary Guy Fawkes, who lead the 1605 Gunpowder plot. In America, the term comes from the circus reference to the "guy wire" the main wire that holds up the tent which meant refer to who is in charge when one asks for the "main guy." Today "guy" is more or less a general term for people.

Well, "G" that's it for this month for another round of Why We Say based on findings from the Dictionary of Word Origins: A History of the Words, Expressions, and Cliches We Use by Jordan Almond.