Bard Bits: All Is True (not really, Ken)
As a bona fide Bardinator I look forward to new or new-to-me versions of Shakespeare's plays. I also appreciate Shakespeare-ish films, those films, shows, and specials that speculate about the Bard of Avon, because in actuality we really don't know much about him or his family. Kenneth Branagh, noted Bardolator, attempted to cast some (perceived) truth on Shakespeare's life after retiring to Stratford.
If you missed All Is True it's no doubt because it wasn't playing in a theatre near you. It certainly wasn't in my secluded part of the world. Fortunately I found a copy in the local grocery DVD corner. The hubs would have preferred a Tom Cruise flick and almost checked out yet another watching of a Mission Impossible. He acquiesced. This is one of the reasons he is such a keeper–plus he owed me for my relenting to watch The Italian Job yet again.
Kenneth Branagh has provided a marvel of a supposition: what happened after Shakespeare retired in 1613 to Stratford? We don't know, historians don't know, but Branagh sets forth what he perceives might have, could have happened based on the tiniest scraps of historical information.
Facts:
The Globe Theater burnt to the ground in 1613 and William Shakespeare retired from the theatre to live out his remaining days (three years) in his hometown of Stratford-Upon-Avon where he had a family: Anne, his wife, Susanna, his eldest daughter (married with a young daughter) and Judith (unmarried and the surviving twin). Shakespeare's heir, Hamnet, died at age 11 (attributed to plague, but no one really is sure). There was some scandal connected with each of Shakespeare's daughters. Shakespeare died on his birthday.
Fancy:
From those facts Branagh provides a family drama of a man who has been more absent than present for the past twenty years, and apparently has never recovered from the loss of his only son and heir. Branagh has Shakespeare creating a memorial garden for his son and battling out resentments with his wife and daughters.
Kudos:
The acting is superb. How could it not with Judi Dench as the long-suffering Anne, Ian Mckellen as the larger than life patron come to visit his favorite poet, and Kenneth Branagh, who has brought Shakespeare to the general public in bold and creative ways? The supporting actors hold their own as well, especially Susanna and Judith. The hubs did not even recognized Branagh as Shakespeare, being impressed when he saw his name as the director, but stunned to learn he was playing the Bard. Yes, the make up is that well done. He looks like the portrait we are all so familiar with. The costumes and time period setting is excellent–they even filmed in candlelight.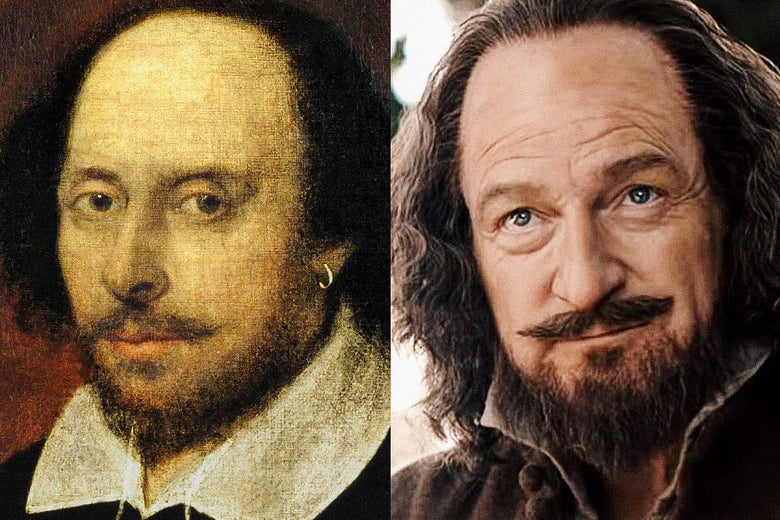 Concerns:
I am a stickler for historical accuracy and get a bit distracted when adaptations go too far afield in interpretation. I don't mind Henry IV being set during WWI or gnomes becoming Romeo and Juliet, but hey, taking liberties with actual history and presenting it "all is true" goes beyond artistic license. The hubs finally shuushed me during the movie, indicating he didn't care for my pointing out of inaccuracies and inserting corrections. He said, "I liked it." But, but, not all was true.
Takeaway:
This is facfic in extreme. It is a love letter done with excellence. It is worthwhile to hunt up a copy and watch it, not just because for its production quality. Do it because it keeps Shakespeare alive, even though he has been gone for over 400 years.