Reading Round Up: February
For a short month February provided ample time to plow through a bevy of satisfying and diverse books. Two snow days from school helped in getting some serious cozy cocoa and recliner reading done. So many great titles and discoveries to share with you!
The Warrior Maiden by Melanie Dickerson
4 stars
A reimagining, rather than a retelling of the Chinese folktale of Mulan, Dickerson's version is set in 15th century Lithuania. In this version, Mulan is the illegitimate daughter of Mikolai, a warrior father who has died. Mulan serves as a warrior to save her mother from becoming homeless, and to escape from an unwelcome arranged marriage.
The first half of the plot relates Mulan's adventures as a soldier. With realistic detail, Mulan struggles to meet the demands of fighting amongst men, while trying to hide her identity. During battle she meets and becomes friends with Wolfgang, a duke's son. Inevitably their friendship develops into something deeper once Wolfgang discovers why he is attracted to and is protective of the young soldier known as Mikolai.
Unfortunately, the second half of the story becomes enmeshed in being more of a romance novel than the adventuresome first part. Attention to historical detail and the smooth rendering of the multiple points of view, lean this more towards a four star than a three star review.
This title refers to characters from the previous book in the Hagerheim series, yet it can be read as a standalone.
NOTE: received as review copy from the publisher in exchange for an objective review
The Long Game (The Fixer #2) by Jennifer Lynn Barnes
4 stars
Sequels are tough. For the most part The Long Game continues the energy from The Fixer, and weaves in enough referrals to keep new readers abreast of previous action. The Long Game focuses on action instead of characters and character dynamics is what made The Fixer such a riveting story. There is not a mention of Gramps in The Long Game and considering how important he is to Tess and Ivy, it seems an injustice to drop him from the plot. Tess is one amazing young woman, yet she is a high school teen not Jason Bourne. Still, the writing is superb, the plot twists darn right surprising. Just wee bit too intense with a few plot holes holding it back.
Ben and Me by Robert Lawson
4 stars
I am not sure how this book escaped my attention as a kid. Best to make up for lost time. It is a classic and has all kinds of charm—YET—I'm not sold out on Amos. I can't get past how only Ben could hear Amos talk, and all those other plot holes, like how does a mouse buy a hat?  The illustrations are the best part of the story, and they were actually better than the story. Just saying.
NOTE: I had to scurry and read this for our February Debatable–which was a doozy of a debate. What? You missed it? Best check it out [my choice of best mouse won with Reepicheep of Narnia series fame]
At Freddie's by Penelope Fitzgerald
4 stars
This one of those literary novels that are Joycian in how there is no plot, rather it's one long character study with a tableau of characters. Nothing really happens, yet there is an urgency that something might. And it takes ever so long to realize it doesn't. Brilliantly written, of course.
NOTE: since the library doesn't own The Bookshop, which I hope to read before watching the movie, I grabbed this instead. If this were made into a movie I would envision Bette Davies as Freddie.
The Librarian of Auschwitz by Antonio Iturbe
4 stars
Avoidance of Holocaust books is my usual modus operandi, yet a based-on-a-true story about a library in Auschwitz? I pulled it down from the shelf with anticipation.
The beginning is absolutely riveting as the young Dita attempts to hide a couple of books during a spot inspection. Will she be caught?  From that auspicious start the plot veers into a medley of different characters with historical facts woven in for good measure. The omniscient present tense creates a distance, making it difficult to fully embrace the story. Dita is amazing, but she is not truly the focus.  The atrocities began to burden the story until it began to be a reading of endurance instead of interest. Of course a book set in a concentration camp is going to have tragedy; however, I was drawn in by the title—a librarian at Auschwitz? That sounded like a story based in hope.
The research and details are well-done and this, perhaps, is what creates a barrier from establishing a solid connection with the characters—a bit of a textbook mingled with a dynamic storyline is the result. It almost works and maybe it worked better in the author's original language. Translations sometimes do lose some of the story's essence.
The Fixer by Jennifer Lynn Barnes
5 star
YA usually comes in the flavors of dystopian, supernatural, romance, strong female protagonist, sci fi, high school drama, adventure; however, the newest menu choice is political thriller. The Fixer is surprisingly addicting and amazing in how it takes the high school drama trope, mixes in some adventure, with a strong female protagonist, and tops it off with political intrigue. Unexpectedly refreshing.
Tess, who hails from Montana, suddenly finds herself planted in Washington DC in a life far different than her previous. Although shoveling muck out of horse stalls and brooking a strong intolerance for bullies are skills that serve her well in DC.
The writing is superb, as is the pacing, and the plot twists are to be applauded. This is a reluctant 5 star due to the difficulty of totally accepting the maturity and capabilities of this group of teens. Then again, living in DC is not for sissies.
Love Walked In by Marisa de los Santos
5 star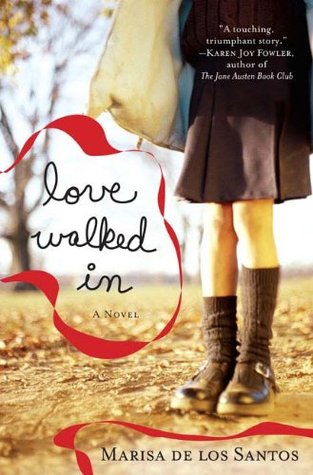 Santos had me at Cary Grant. All the mentions of classic black and white films was a bonus to the imaginative plot, dynamic characters, and lyrical prose. To be perfectly honest though, this is more of a 4.85 rating as the ending half began to unravel a bit with tying off of loose ends. The author's background in poetry serves her well, since the descriptive imagery practically sings, yet doesn't overshadow the plot. A couple of unexpected plot twists, a winsome little girl, and a mystery mom, along with unconventional storytelling techniques makes this a memorable read. And it's her first one–looking forward to more.
Harbor Me by Jacqueline Woodson
5 star
Harbor Me is in the vein of Wonder in how it brings people together with its message of acceptance. Although it is a middle read, its prose is rich and well-crafted and is, quite frankly, thoroughly amazing. A niggling concern is how in the world could a school legally get away with having an unsupervised "chat" room for students? Definite artistic license superseding legal responsibilities. Setting that aside, the conceit of ARRTful sharing works in how it opens up the world of a diverse group of children on the verge of becoming teens in a world becoming more and more complicated.
The Citadel by A.J. Cronin
5 star
A solid classic. Strong, memorable characters, engaging storyline, and enriching details come together to purport the tale of a young, penniless doctor who rises out of the obscurity of backwoods coal mining towns to becoming a rich, well-respected London physician. His trading out of idealism for a comfortable life comes with great costs, yet the story just falls short of moralism. Due to the style found in the time period of publication,some of the story techniques are a bit antiquated, as in the tried and true, "tell rather than show" instead of having the story evolve from the characters themselves. There is also some melodramatic moments. Nevertheless, it is still well-written and a meritable read.  It's not surprising that the book was made into a film and a BBC series.
Don't Close Your Eyes: A Silly Bedtime Story by Bob Hostetler illustrations by Mark Chambers
5 star
Playfully engaging, the rhyming text teams up to the whimsical illustrations to coerce its audience to NOT fall asleep. That's right. Instead of the usual drone of encouraging young listeners to gently enter slumber, this book keeps cheerfully reminding its readers to stay awake. The reverse psychology is fun and children will no doubt enjoy the gentle nudge to keep their eyes open wide open instead of closing them for the night.
One of those books that invite multiple reads.
NOTE: received as review copy from the publisher in exchange for an objective review
The last entry is not so much a dissapointment, but it just didn't fulfill the hope of being better:
The Wartime Sisters by Lynda Cohen Loigman
3 stars

Historical novels set around WWII easily catch the interest, especially when it's a unique view of the war effort through work done at the Springfield Armory. The jacket blurb indicates family drama: two sisters who cannot reconcile petty jealousies and misunderstandings that fill their relationship from childhood to being adults.
What could have been a deep study of family relationship interaction became a bouncing point of view telling with several women each telling their perspective. The intermittent timeline weaving and flashbacks made it difficult to truly connect with the characters. Multiple viewpoint stories run towards the problem of thinly spreading the plot too wide. Well-placed setting, though, as it is obvious the author did her research