Review Roundup
I catch up on my blogs through my iPhone reader which means I miss any goodies that enhance that web page. And that means people miss my little extras as well, such as my Good Reads update feed. So, a new addition to my line up of features shall step forth: the Review Roundup in which I lasso a couple of books from my Completed Reads Corral and trot them out for all to admire. I'm in the midst of Cormac's All the Pretty Horses, so horsing around is a given.
Last year I thought 50 books to be a good goal and I nearly doubled it by reaching 92 reads. This year I decided to go for 101. So far, so good as I read 11 books in January. Here's my top three picks of January:
Fair is the song that remains in the heart,
That soothes the savage scorns that love inflicts,
Or brings joy to our lips as does the lark,
Causing fingers to snap and heels to click.Songs. Sonnets. Put them together, as has the very clever and talented Erik Didriksen, and you have a collection that is memorable and marvelous. His book started out as a weekly sonnet post on Tumblr which grew a following and garnered him a publishing contract. Ooh, I love those kind of success stories.
There is indeed something for everyone, from The Beatles to Cyndi Lauper to Frank Sinatra–sing the praises of Pop Sonnets.
I am in the middle of my "chase-down-every-D.E. Stevenson-book-I-can-find" adventure. I may owe our public library's inter-library loan department some compensation once I reach my goal of finding all 40 plus novels. I am a professed Dessie. Stevenson's books are old-fashioned, yet hold up well for story-telling. A big bonus is that many take place in Scotland, the land of my ancestors. I do like her plucky heroines. Here is a new fave:
Kate Hardy buys a country house unseen and makes her move from London to the dull quiet life so she can continue writing her popular hero-action books. Yet, life in the country is far from dull. Strange letters, neighborhood dramas, tangled romances, along with irritating relatives visiting, interrupt Kate's solitude. And she doesn't mind one iota.
A thoroughly likable plot and heroine, the book would have garnered five stars except for the ending. DES is terrible about her loose endings. Everything comes crashing to a big finale but she tends to leave loose bits trailing in the breeze. My hope is that Kate Hardy continues on in another book.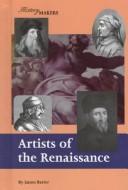 The Renaissance is an age like no other. There were so many accomplishments in so many areas of the humanities and sciences, it merits study to better appreciate the genius behind the works. One area of accomplishment, one that still leaves the world in appreciative awe is the art and artists of the Renaissance.
Barter's reference book provides background and insights on several of the prominent artists of the time such as Michelangelo, da Vinci, and Raphael. Surprisingly, Botticelli is not part of the group; however, the artists featured provide a satisfying study into some of the most influential talent of that time period. A great reference for students, or for those looking for a quick, in-depth study.
Have you read any of these? Better yet, what was your favorite January read?